My cat, Romeo, had lost his appetite. I took him in December 23, 2013 to Stockbridge Veterinary Hospital to be checked.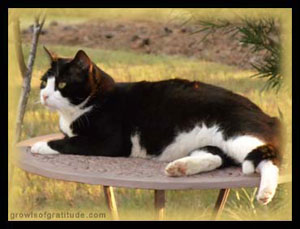 Dr. LaTanya Maney took his temperature, felt of his body, looked in his mouth and said that he had bad teeth. This made since because I had noticed his breath had gotten very bad. He weighed 11 lbs.
She said that, just like a person that he probably just didn't feel good.
Fast forward to January 30, 2014. Romeo was eating but still not like he should be. I was loving on him and just happened to lift his lip in the front part of his mouth. I was shocked. There was a nasty big gray piece of some kind of tissue coming out of the front of his gum. No wonder he had become a finicky eater. That thing was bothering him.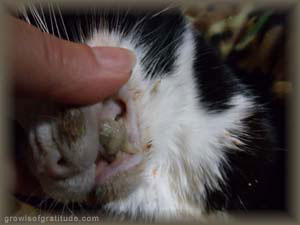 I immediately called Stockbridge Veterinary Hospital and asked to speak to Dr. Maney since she is the doctor that had seen him just weeks before. I described what I had discovered and emailed a picture of his mouth to her. This was on a Thursday. She said to bring him in the next morning and since that was her surgery day that if it was something that she could take care of, she would do it right away.
I asked if he would need to be on antibiotics before surgery and she said no that she could give him an antibiotic shot during the surgery that would last for 3 weeks.
I arrived at Stockbridge Veterinary Hospital the next day. Jared, the vet tech, weighed him and told me that he weighed 9 lbs. Dr. Maney looked in his mouth and said that it was an abscess and needed to come off right away and stated "while he his under I will clean his teeth". She had repeated many times how bad and nasty his teeth were, which is not a surprise…he was a stray cat when he found me.
I didn't question anything…she is the doctor and she knows best, right?
Maybe not…my logical mind should have told me that Romeo's loss of appetite would have compromised his little body, but again I did not doubt Dr. Maney…surely she would not operate on an animal in a compromised state.
Well I was wrong and found out in a very sad and heartbreaking way.
That same day I picked Romeo up after his surgery and Dr. Maney said that everything went fine. She said he did well and came right out of anesthesia…but she said "he had some very infected bad teeth so I pulled them…8 OF THEM" !!! (My receipt for the procedure stated 1 tooth pulled) Well, this seemed a little shocking, but she acted as though it was perfectly normal. She said that he would need to eat soft food since he would be a little sore.
SORE!!! Undoubtedly he would be sore…he had a huge abscess and 8 teeth removed in one swoop!!
Poor little guy…I was trying to take his pain away and inadvertently caused an incredible amount more.
I did sign a piece of paper before the surgery that if extractions were needed it was ok, but never dreamed it would be 8 teeth. The waiver you sign is like a questionnaire. Stockbridge Veterinary Hospital really makes sure they are covered. After the fact, I called several vets that told me that they would call before doing extractions.
My thought now is my poor baby should have been put on antibiotics before that much bacteria was cut loose in his mouth, but Dr. Maney said that I didn't even need to give him antibiotics when I returned home because she had given him the shot that would last him 3 weeks.
So home we went (this was Friday) and Dr. Maney told me that Romeo would just want to sleep after the anesthesia and just give him his soft food and not too much water because he could get stomach cramps from the anesthesia.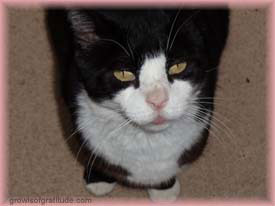 Well, Saturday he absolutely was not hungry, but would drink some water. He just whimpered…his mouth had to be incredibly sore.
Sunday, he could barely stand up, I held water for him and he would lick a little.
Monday morning I called and told Stockbridge Veterinary Hospital that he was extremely weak and did not want to eat. They said that Dr. Maney was off, but come in and they will take a look at him.
I arrived and they took his temperature and weighed him. He weighed 7 lbs. Dr. Howard said that his temperature was not even registering on the digital thermometer and he was not looking good at all. She said that he was completely anemic. She offered several times to give him a steroid shot. She lifted his lip and his gums were super pale.
She basically said that she didn't think that he was going to make it. She said that I could leave him there for Dr. Maney to see the next morning or I could bring him back the next morning, but she didn't feel like he would make it through the night.
Well, I certainly was not going to let him die in a cage in Stockbridge Veterinary Hospital's office and the thought of him at home with me, but suffering, traumatized me.
I had now gone from having a surgery done to help him feel better to making the decision to end his life to prevent even more suffering in the next 24 hours…my poor baby Romeo.
We try to do the best for our furry friends and to do that we have to find a vet that we trust and trust that they will do the best for our fur babies.
But I should have listened to my intuition. Dr. Maney said he looked fine for surgery even though my visit to her had been about his loss of appetite.
I curled my little man into a ball on the vets table and held him close while Dr. Howard sent him to his final resting place with no more weakness and no more pain. 🙁
How did this happen? I was so eager to help my little man, Romeo, that I entrusted a veterinarian, Dr. Maney, that I thought could relieve his pain right away.
Since I had only had shots and purchased flea meds from them before, I had not checked them out as you would if your pet is going to be put under anesthesia.
Be careful who you trust and do your homework before you have anything major done to your fur baby.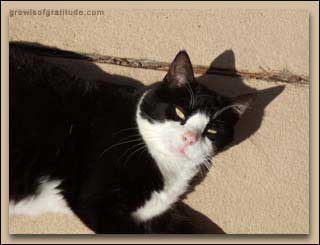 I am so grateful that Romeo came in to my life and will miss him for a very long time. He loved to be rubbed down with catnip and I am sure that he is laying in a cloud of it right now.