There is an unmistakable bond between humans and dogs.  Dogs give to us unconditionally expecting nothing in return.
Not only does your canine buddy give you companionship…
Studies have shown that pet owners were found to have lower blood pressure and heart rates than non-pet owners.
You are more likely to get out and walk with your canine companion. This is good, not only for your overall health, but helps with daily stress. Social media is fun for interaction with friends and family, but when you are out walking your dog you become more approachable by other pet owners thereby giving you an opportunity to increase your network of friends and acquaintances.
Service dogs create a much happier life assisting people with mental or physical disabilities. They give their human companions a more independent life.
The benefits are too numerous to list.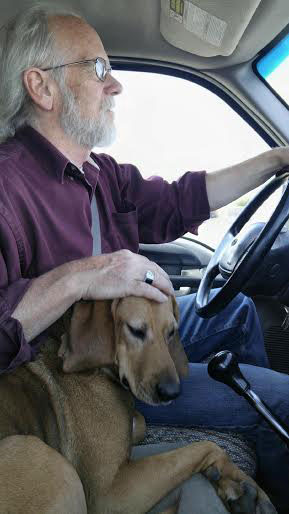 Glenn Swanson, a Montana artist and sculptor, is an avid dog lover and every dog's dream human. Glenn doesn't go looking for a new canine companion.  They place themselves in his path. I think Ginger the hound dog waited patiently near a logging road in the mountains of Montana until Glenn just happened to pass by. There are no accidents in life and as you can see from the photos of Glenn and Ginger, this was a match made in heaven.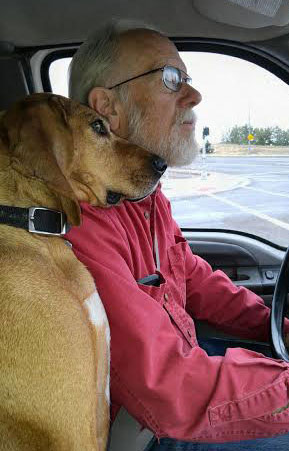 I am grateful for the multitude of benefits I get from my furry best friends.